Originally posted in MasterSlaveRP.nt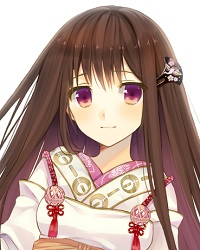 Name: Aki Minamori
Age: 18
Gender: Female
Sexuality: Heterosexual (can be forced into any)
Class: Slave
Looks Like: An Asian girl with dark brown hair and reddish brown eyes. Usually seen in her Shrine Maiden outfit.
Likes: books, house chores, taking care of children
Hates: liars, her father, her paternal grandfather
Biography: Born Aki Yanase, the third daughter of Takanobu Yanase, Lord of Higashi-Managasaki, and only child of his seventh wife, Rana. Her mother died when she was only 5, then her paternal grandfather Takaatsu forced her father take her out of House Yanase, adopted to Lord Shouun Minamori, Aki's maternal uncle. Lord Shouun soon died when Aki reached age of 13, and his then 17-year-old son Masaaki, also Aki's cousin, made her a shrine maiden in House Minamori's shrine Minata because he didn't want Aki to be wed into any house aside from Minamori. Nevertheless, the shrine maiden fell in love with a man from another house, who turns out to be a worse man than her disrespectful father and grandfather. They eloped, and Aki somehow turns her life into the worst life that she'd ever imagine.